Grand Rapids Grand Prix
Everything You Need to Know
We aim to make a year-round activity center where you get everything you want under one roof. Knowing what to expect before you arrive sets you up to maximize your fun. If you're not having peak level fun, we're not doing our job.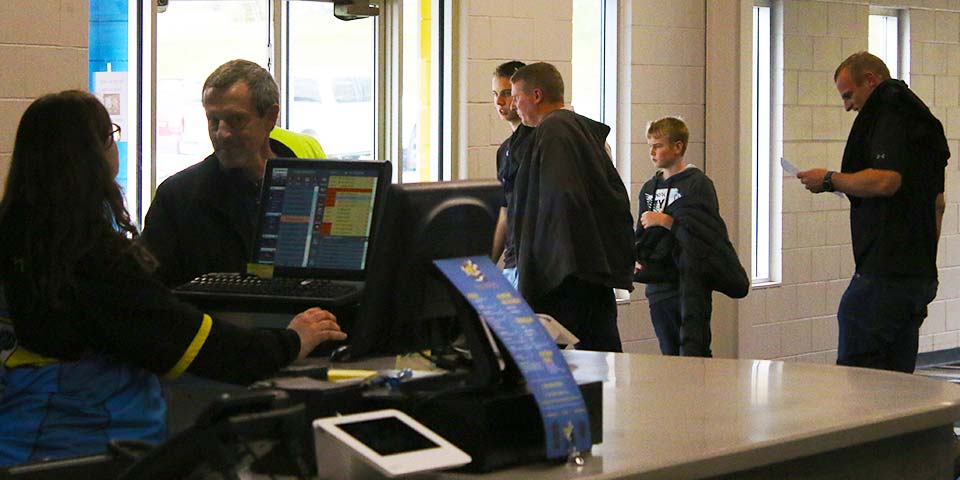 Pricing
GRGP offers different racing packages so you can get the biggest bang for your buck.
*Race package pricing is per person. The packages cannot be split between two drivers.
*Full Face Headsock required $2.00 when using our helmets. Yours to keep!
1 Race - $20.75
If you're looking for just one adrenaline rush the single race package is for you. Please note 1 Race package cannot be upgraded into a 3 Race package. All race packages are purchased separately.
3 Race Package - $50
One race not enough? We don't blame you. Take advantage of our 3 race package. 
7 Race Package - $100
It looks like you're addicted to adrenaline. We get it. This is our best-valued package and is guaranteed to send you home with a perma-smile for the next 24 hours.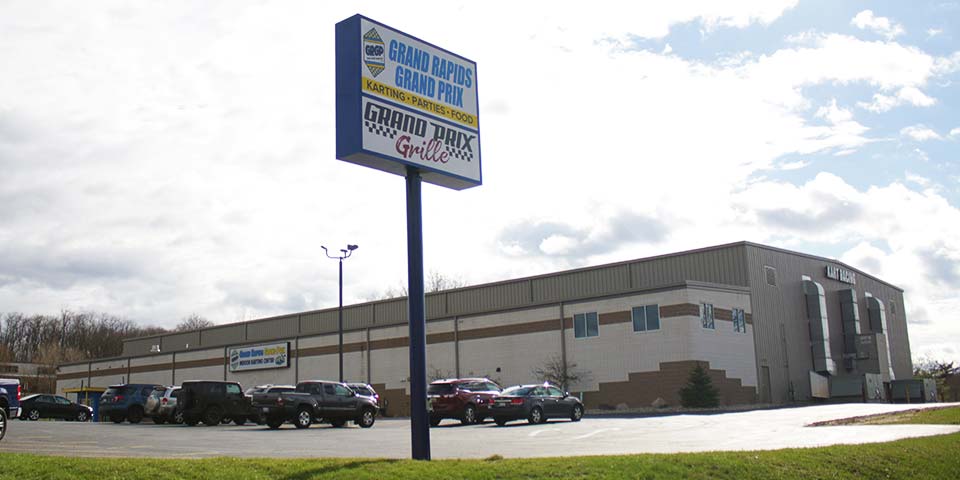 Hours
Monday           Closed (we need one day of rest)
Tuesday            3:00PM – 10:00 PM
Wednesday      3:00PM – 10:00 PM
Thursday          3:00PM – 10:00 PM
Friday                11:00 AM – 10:00 PM
Saturday           11:00 AM – 10:00 PM
Sunday              12:00 PM – 7:00 PM 
Minors are not allowed to stay inside without a parent or guardian present.
Michigan penal code states, a minor child under 17 years of age shall not be permitted to remain in any place where spirits, liquor, wine, or beer is sold unless accompanied by a parent or guardian.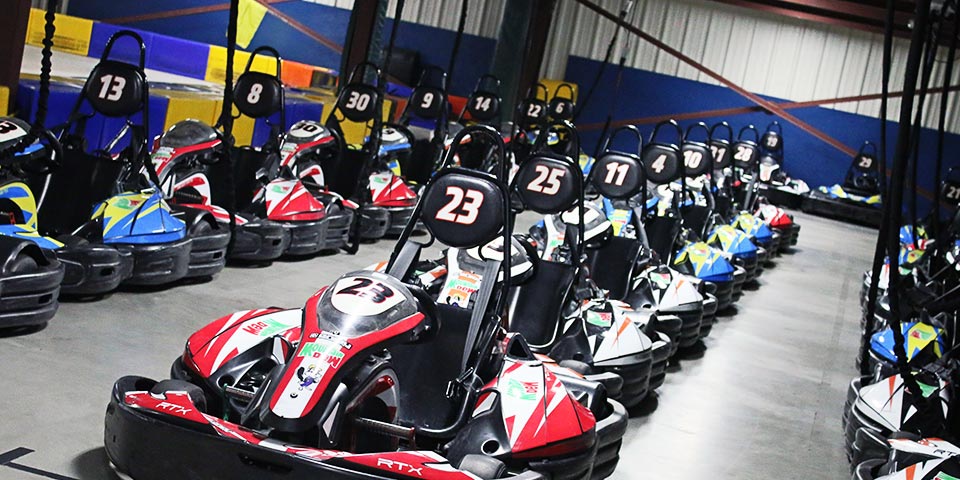 Rules
Did we mention our go karts are fast? They are fast, and because they're fast, every driver must follow the rules at all times. You cannot achieve maximum fun if there's an accident on the track.
No Flip Flops – Drivers Must Wear Closed (i.e. toed shoes)
Drivers Must Be 15 Years Old
ALL NEW DRIVERS Must have proof of valid drivers license/Permit or Valid ID Showing proof of age
Drivers Must Be at Least 54 inches Tall
Obey the Track Marshalls at All Times
Watch for the Flags and Obey the Flags
Be Aware of Your Surroundings on and off the Track
Drive Carefully – (You're not Ayrton Sennave ... Yet.)
No Swearing – Have Good Manners
Don't Leave Trash in the Karts or on the Track
Know Your Race Number
Ask Questions!
Have Fun!!!
Sodi Electric Go Karts
These racing karts are fast. They have unrivaled torque and power. The ergonomic design with an adjustable seat and pedals ensure a proper weight distribution and comfort for all drivers.  
Climate Controlled Two Level Indoor Track
More than a few chilly months in Michigan make activity planning a challenge. Whether it's raining, snowing, hot or cold, our facility is comfortable and bright, no matter the weather outside.  Elevation changes the game…. We have the only 2 level track and facility in Michigan.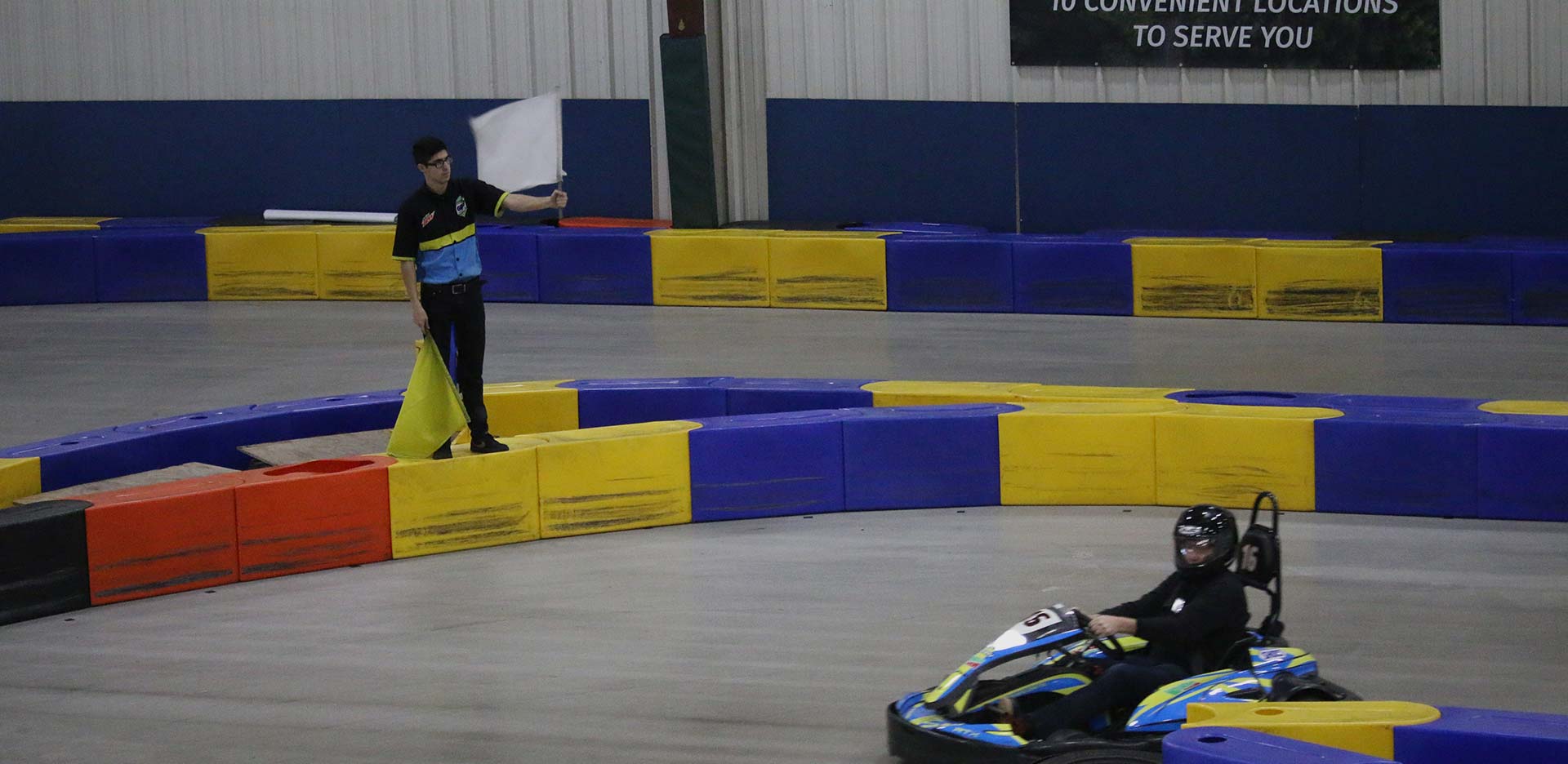 What Do the Racing Flags Mean?
Every driver needs to know what the flags mean before getting behind the wheel.


FAQs
Frequently Asked Questions.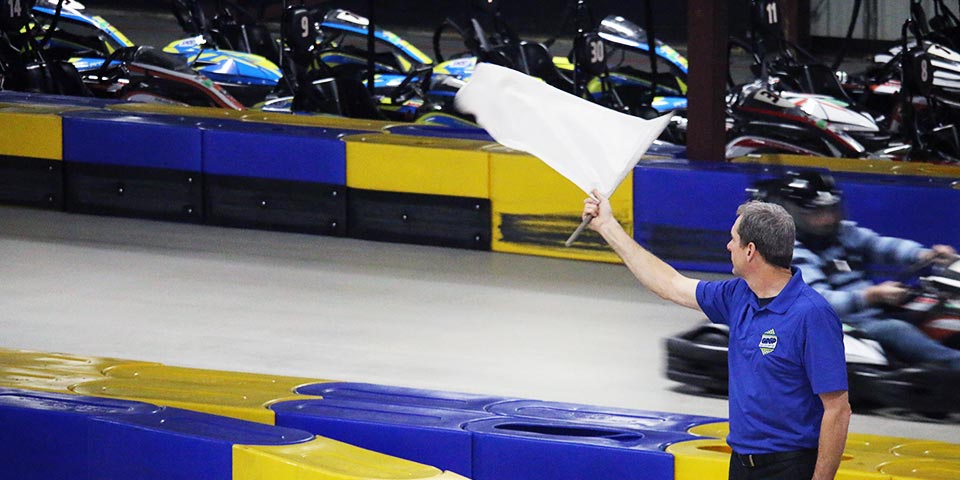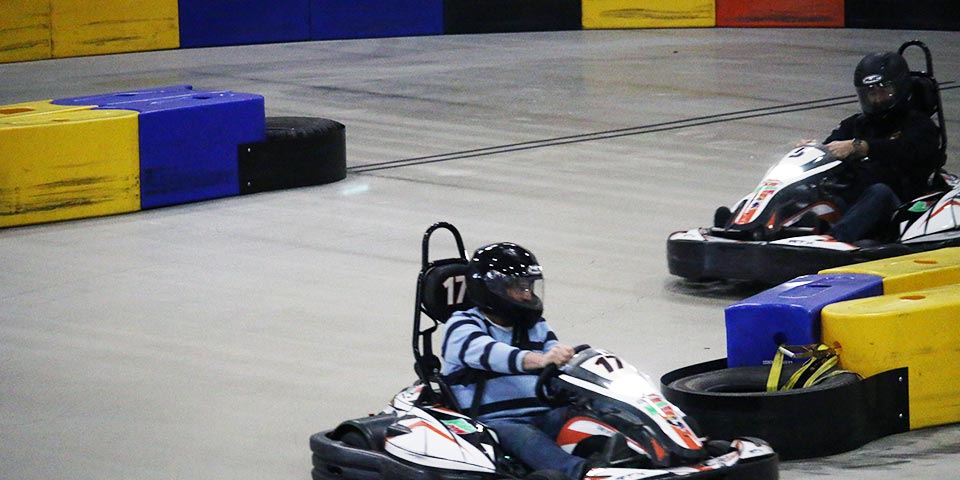 1How Old Must You Be To Race At GRGP?
We do not have kids karts or double karts. At GRGP all racers must be 15 years of age, at least 54" tall and ready to race with closed toe shoes. ALL NEW DRIVERS MUST have proof of driver's license/permit or valid id showing proof of age.
2How Long Is A Race?
We run a race every 10 minutes you are on the track for 6-6 ½ minutes.
3Can I Book a Reservation for just Racing?
No, we only do reservations that include racing/food/room. If you want just racing it is walk-in only on a first come first serve basis. We do not recommend for larger groups.
4Do You Offer Reservation For Parties?
Yes. We offer reservations for groups of 8 or more that want to come in and eat & race. All reservations require a 50% deposit to reserve race times. It is highly recommended that you book a group event if you will have 8 or more. You won't ever have to wait for a track time, and you will only race with the people in your group. Without a reservation for a large group, you will "Arrive and Drive," or in other words, you will be scheduled on a first come, first serve basis.
5Do You Serve Alcohol?
GRGP serves beer & wine. We encourage responsible drinking by patrons AFTER they are done driving, but do not allow any driver to participate in racing if they have consumed in excess of 2 alcoholic beverages during the course of their visit. We reserve the right to breathalyze all racers. Any patron suspected of being impaired will be asked to take a breathalyzer test. Failure to take the test or the presence of alcohol in excess of .04 BAC will disqualify a patron's participation in any racing for the remainder of their visit
6Do I Need To Bring A Helmet?
No, we provide them with a clean head sock to wear.
7Can I Bring My Own Helmet?
Yes, it must be DOT approved. Eye protection is required with either face shield or goggles.
8What Should I Wear To Race?
We require all shoes to be closed toed. No Sandals or flip flops. For ladies, we do not recommend skirts, dresses or high heels.
9Are There Height Or Weight Restrictions?
We will do our best to accommodate drivers of most sizes, but certain minimum and maximum height restrictions apply. Generally, height can range from 4'6″ (54″) to 7′ (84″). We do not have a minimum weight standard but generally will not be able to accommodate persons in excess of 300 lbs depending on size of their frame. Our pit crew will make the final determination on a driver's ability to safely participate on our race track. Refunds will be given if you do not meet any of the height or weight limitations.
10Do You Have Double Karts?
No, we do not offer double karts. Our facility is for young adults to adults only for racing.
11Do I Have To Have A Drivers License Or Sign A Waiver To Race?
ALL NEW DRIVERS must be at least 15yrs old with proof of driver's license/permit or valid id showing proof of age. All drivers must sign a waiver.
12How Fast Are Your Karts?
They have the capability of going 45 mile per hour, but max speed reached in our facility is 30-35.