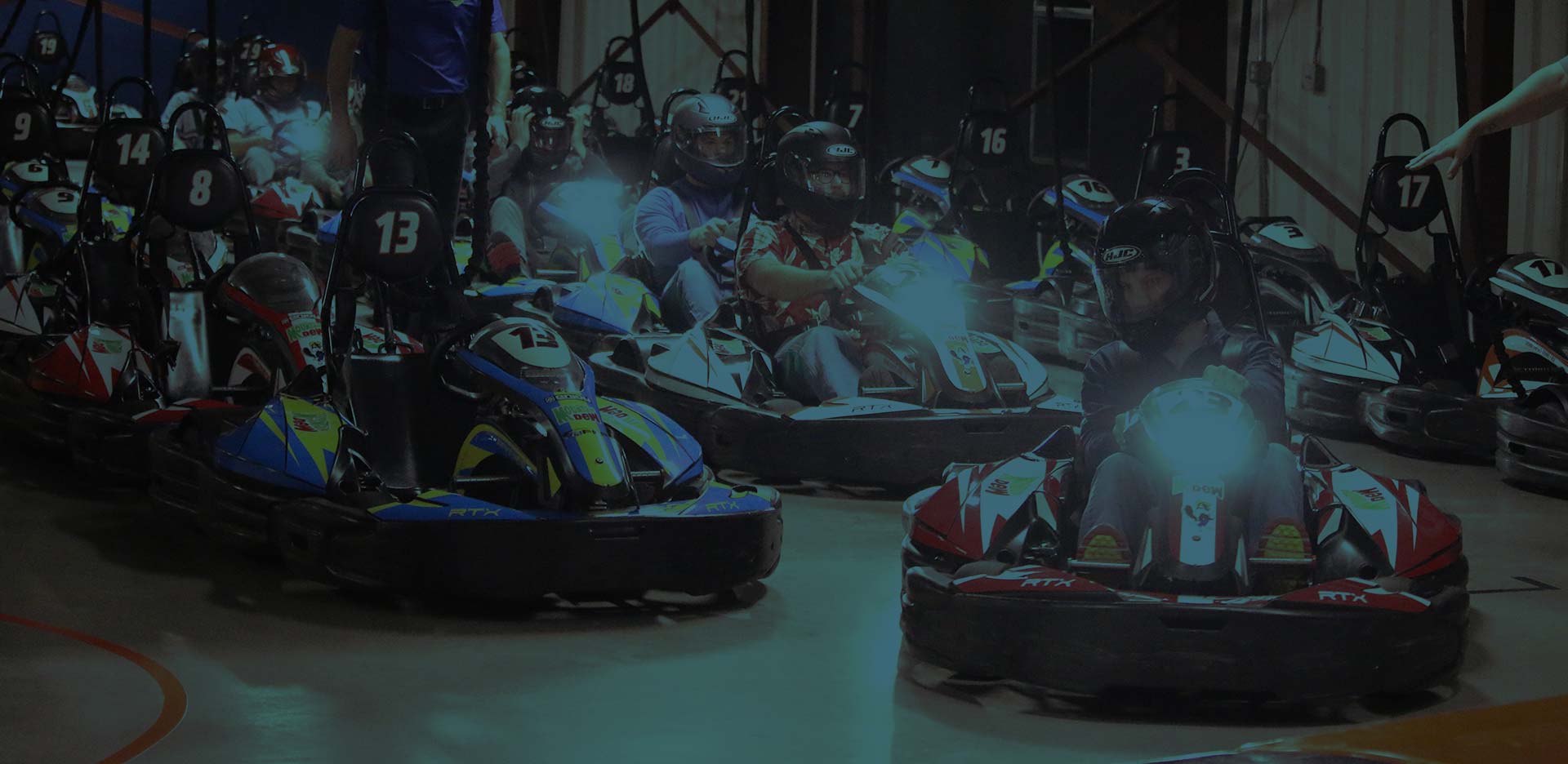 Looking for an Unforgettable Time?
Are you in charge of setting up your company's next corporate event or team building adventure in Grand Rapids? Do you have a big birthday party or bachelor/bachelorette you're hosting?  Or maybe you're just looking to have a fun-filled afternoon with friends and family? What if you could have everything you need under one climate-controlled roof?
Welcome to Grand Rapids Grand Prix
Whether you're just looking for an afternoon of fun, hosting a party, or coordinating an event, Grand Rapids Grand Prix has your entertainment and food covered.
Frequently Asked Questions
1How Old Must You Be To Race At GRGP?
We do not have kids karts or double karts. At GRGP all racers must be 15 years of age, at least 54" tall and ready to race with closed toe shoes. ALL NEW DRIVERS MUST have proof of driver's license/permit or valid id showing proof of age.
2How Long Is A Race?
We run a race every 10 minutes you are on the track for 6-6 ½ minutes.
3Can I Book a Reservation for just Racing?
No, we only do reservations that include racing/food/room. If you want just racing it is walk-in only on a first come first serve basis. We do not recommend for larger groups.
4Do You Offer Reservation For Parties?
Yes. We offer reservations for groups of 8 or more that want to come in and eat & race. All reservations require a 50% deposit to reserve race times. It is highly recommended that you book a group event if you will have 8 or more. You won't ever have to wait for a track time, and you will only race with the people in your group. Without a reservation for a large group, you will "Arrive and Drive," or in other words, you will be scheduled on a first come, first serve basis.
5Do You Serve Alcohol?
GRGP serves beer & wine. We encourage responsible drinking by patrons AFTER they are done driving, but do not allow any driver to participate in racing if they have consumed in excess of 2 alcoholic beverages during the course of their visit. We reserve the right to breathalyze all racers. Any patron suspected of being impaired will be asked to take a breathalyzer test. Failure to take the test or the presence of alcohol in excess of .04 BAC will disqualify a patron's participation in any racing for the remainder of their visit
6Do I Need To Bring A Helmet?
No, we provide them with a clean head sock to wear.
7Can I Bring My Own Helmet?
Yes, it must be DOT approved. Eye protection is required with either face shield or goggles.
8What Should I Wear To Race?
We require all shoes to be closed toed. No Sandals or flip flops. For ladies, we do not recommend skirts, dresses or high heels.
9Are There Height Or Weight Restrictions?
We will do our best to accommodate drivers of most sizes, but certain minimum and maximum height restrictions apply. Generally, height can range from 4'6″ (54″) to 7′ (84″). We do not have a minimum weight standard but generally will not be able to accommodate persons in excess of 300 lbs depending on size of their frame. Our pit crew will make the final determination on a driver's ability to safely participate on our race track. Refunds will be given if you do not meet any of the height or weight limitations.
10Do You Have Double Karts?
No, we do not offer double karts. Our facility is for young adults to adults only for racing.
11Do I Have To Have A Drivers License Or Sign A Waiver To Race?
ALL NEW DRIVERS must be at least 15yrs old with proof of driver's license/permit or valid id showing proof of age. All drivers must sign a waiver.
12How Fast Are Your Karts?
They have the capability of going 45 mile per hour, but max speed reached in our facility is 30-35.
Sodi Electric Go Karts
These racing karts are fast. They have unrivaled torque and power. The ergonomic design with an adjustable seat and pedals ensure a proper weight distribution and comfort for all drivers.  
Climate Controlled Two Level Indoor Track
More than a few chilly months in Michigan make activity planning a challenge. Whether it's raining, snowing, hot or cold, our facility is comfortable and bright, no matter the weather outside.  Elevation changes the game…. We have the only 2 level track and facility in Michigan.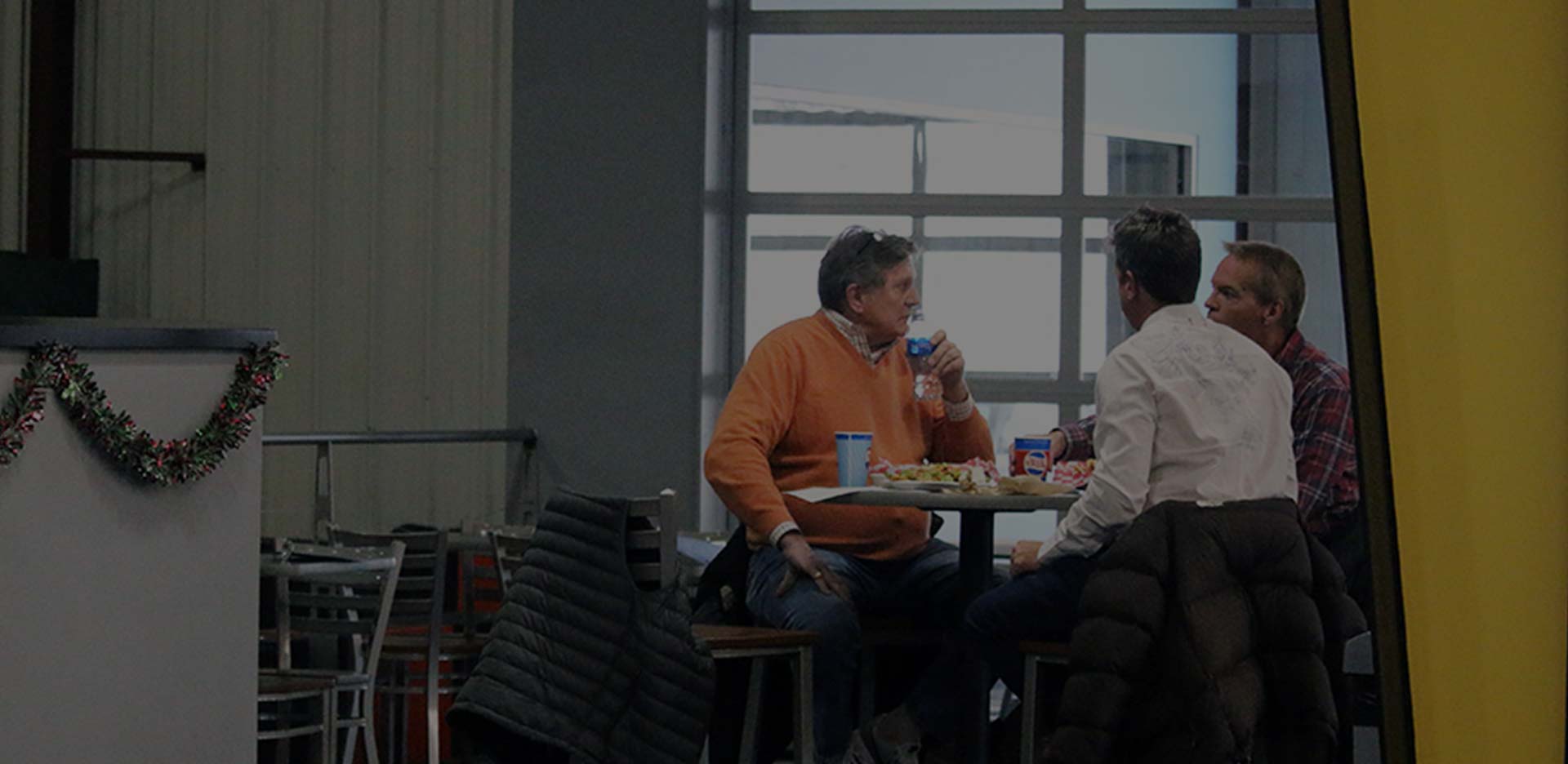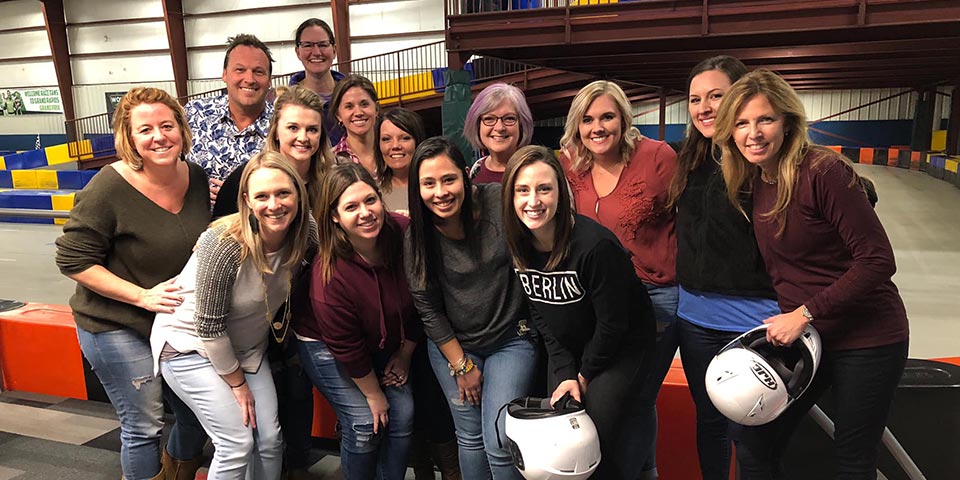 Company Holiday Parties & Team Building Event Center
From company holiday parties to a random rally of the troops to boost office morale, adrenaline is the perfect way to motivate and bond your team. We can accommodate team building groups large or small. Our facility features two large conference rooms equipped with audio and visual equipment for any type of presentation.  We provide in-house chef-prepared catering for all size groups.
What Our Customers Are Saying
Omg, so much more fun than the cars at Craig's cruises. Hard not to spend $100, it's kind of addicting!

Fun and fast electric go-karts. About twice as fast as Craig's Cruisers electric go-karts. You will have to use both the gas and brakes!

Electric cart racing sounds boring, but these are FASTER than gas. Torque is astounding. For grownups only. Get the 3 race pack. You'll be glad you did.

We just had our company Christmas party here. It was an absolute blast! I cannot say enough about the staff. Super helpful and genuinely friendly. The owner should be proud of their employees. Do yourself a favor and come here.

GR Grand Prix is a really fun time. The owner and staff are friendly and accommodating. At my most recent visit, I did 3 races, and spent 2 hours there. After being home for an hour, my arms are still sore, and I'm still smiling. Now I just need to convince my boss to have our company holiday party there.

I host multiple corporate events monthly and this was the easiest and by far the best location to mix business with fun! The 2nd floor offers a large TV available for presentations. I rented the entire venue for a private event and was able to combine a presentation with an activity all could enjoy. The racing was excellent, the go karts are faster than I expected and the track can be challenging depending on your speed. The food was very good, my event included 30+ people and there was enough leftover to feed a dozen more.

Hands down most fun I've had at any go karting place. Must see it to believe it!

Fun, high-speed kart track. Fun tracking and reporting system tells you how you did. Two levels to view from. Watch what other drivers do to learn tricks of the track from the 2nd floor.

Really nice staff and a fun, technical and unique track. You've got to get your braking dialed in to get fast lap times, or you can forget about that and drift like Vin Deisel all over the place

Fun and fast electric go-karts. About twice as fast as Craig's Cruisers electric go-karts. You will have to use both the gas and brakes.

I love this place! We always have so much fun. Tad more expensive than racing Go-karts anywhere else, but they go a lot faster.

Just went here for a work outing and it was a lot of fun! We had 3 races each and pizza/pop. The race track is very technical and requires some skill and arm strength to muscle through the turns.